It's the holiday season, in spite of everything, meals must go on. Mini-holiday celebrations abound, even if it's a Table for One. Classic Holiday Stuffing is a basic little jewel, the comfort of home cooking.
TABLE FOR ONE
Hello, it's just me this year, but the holiday table would seem lonely without a classic stuffing. This year I am making it as dressing, that is, baked outside of the turkey. This recipe delivers the classic flavors we all recognize and love-sage, thyme, celery, onions & of course the magic ingredient Bell's Seasoning. Bell's has been the iconic holiday spice blend for an unbelievable 150 years, and it is salt free. I can't imagine stuffing with out it, or my classic turkey hash without it.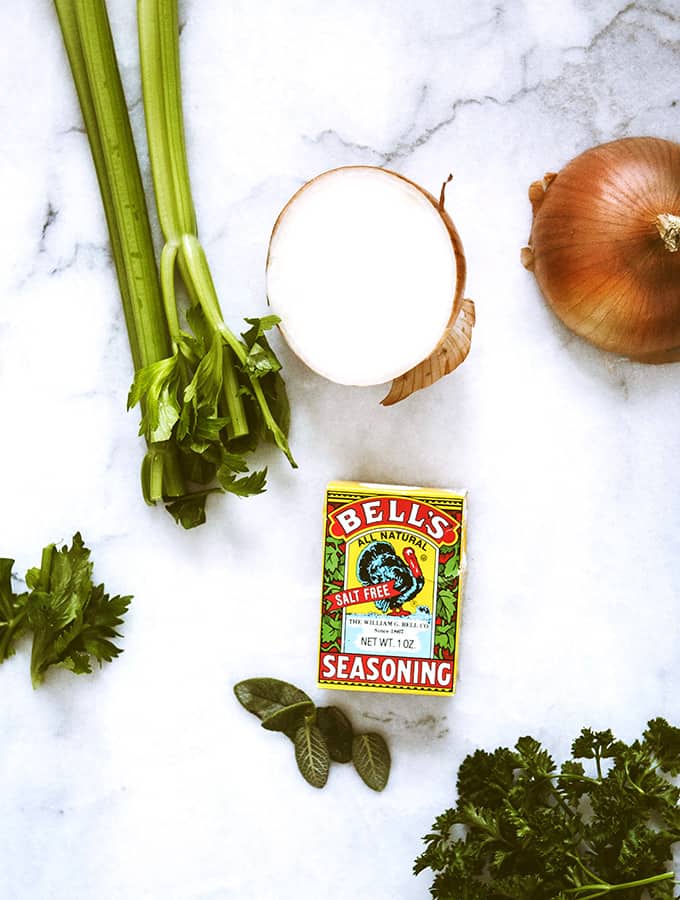 THANKSGIVING 2020
This holiday will go down in history for many reasons personal to each of us. In my "keep calm and carry on" mode, which I adopted from my depression and world wars survivors family, I just keep going. Silly, but the comfort I can enjoy is to cook food for myself, friends and family. Nothing fancy these days, and this classic stuffing is a perfect example.
CLASSIC HOLIDAY STUFFING
Simple recipes many times are the best. I do adore all the other stuffings that add interesting flavors, such as sausage, oysters, dried fruits, and nuts, however this year called for a recipe I could count on and would work well with on-hand ingredients. I picked up a fresh sourdough boule from my bakery, and as is part of the ritual, sat in front the of TV and gently pull the bread into 1-inch ragged pieces. Next, allow the bread to dry out for 2-3 days, then it is ready to bake the stuffing.
FRIENDS & NEIGHBORS
I ended up ordering a turkey on line and it was enormous! So, I contacted a few neighbors who are shut-ins or without family this year and inquired if they would like a simple turkey dinner-yes. I delivered the simple meals to my neighbors, one neighbor started to cry, she had just lost her husband a few years ago, she was so thankful for the home cooked meal. The power of food, taking care of our friends and family is a little jewel.
Wishing everyone a safe, healthy and happy Thanksgiving.
As always, enjoy. B