The Italians create fabulous food from almost nothing at all. Capellini en Brodo is an example of a rich pasta dish made from leftover Parmesan rinds and herbs. Italian simplicity is always a Little Jewel.
MY SEARCH FOR ITALIAN FOOD
If you have not yet caught Stanley Tucci's Searching for Italy series, you are missing a little jewel. The series revolves around food, really good food, from many of the regions of Italy. He even featured a restaurant I visited on my journey to Florence. I still yearn to recreate the dishes I savored traveling in Italy.
SIMPLE PARMESAN BROTH
One of the recipes featured in Tucci's series is a simple Tortellini in Broth. Capellini en Brodo is in the same vein, creating a rich flavorful broth just from leftover Parmesan rinds (which I have been collecting in the freezer) along with herbs and spices. Everything goes in a pot, simmered, then strained. This kitchen economy is pure genius.
The Parmesan broth serves as the base for Capellini en Brodo. Once the broth is made, it is simply cooked with the thin Cappelini pasta. As the pasta, cooks it releases starch and creates a creamy, rich broth. The final topping is an egg yolk. Now, eggs are not my favorite, however when the yolk is mixed in the pasta it creates an almost Carbonara-like sauce, rich and creamy.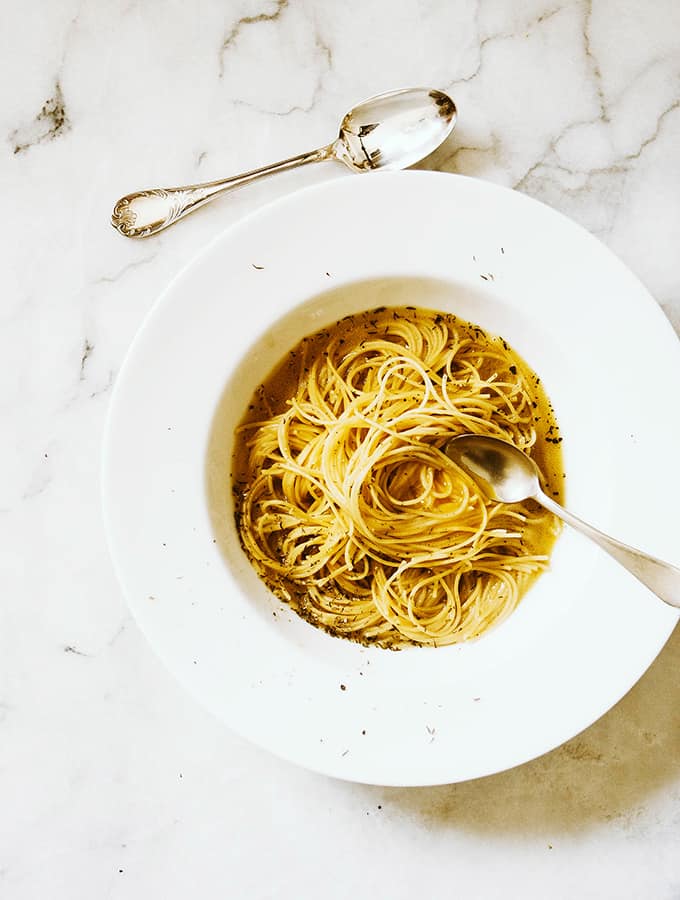 BEAUTIFUL FOOD BY DESIGN
The simple everyday beauty in our kitchens has been basis for my blog for almost 10 years. My images are very recognizable, I have used a very simple way to showcase the recipes, just as they are when you serve them. I stive to keep a fresh variety of cuisines to sample.
Thank you for your support and please check out my beautiful cookbooks in the SHOP.
As always, enjoy. B