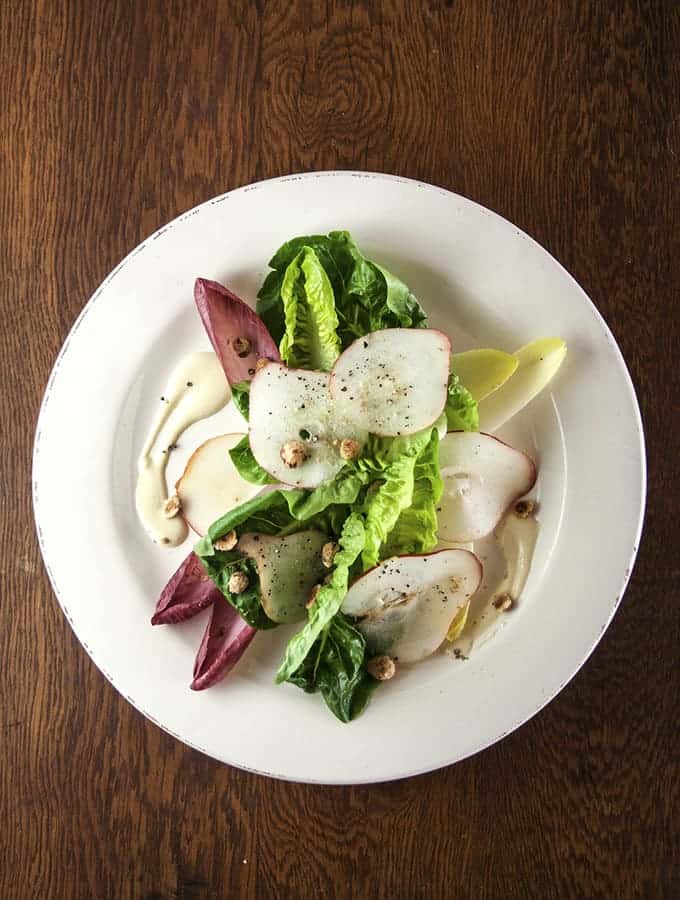 Travel creates rich memories – sights, smells and tastes. This salad of crisp pear, endive and creamy Romano cheese arrives from Florence, first served to me in a small trattoria with dark wood tables, quietly tucked away well off the main city streets, food love Italian style from Bijouxs.
An adventurous trip to Florence yielded it's share of excitement, along with a box of little jewel recipes packed away in my memory. A lovely salad, that stole the show from the rest of the meal, was created from fresh pear, endive and lettuce, served table side in bowl, then tossed in a creamy dressing of Romano cheese, olive oil and fresh lemon juice, the dressing was hidden below the salad, a lovely surprise.
For the Bijouxs version of the salad, the beautifully colorful salad elements are sliced thin and plated, with a garnish of toasted hazelnuts, but I stay true keeping the creamy Romano dressing hiding beneath salad leaves. The salad ingredients are simple; pear, endive and lettuce, their sweet flavors contrasted by the salty, creamy bite of Romano cheese dressing.
COOK'S NOTES: I use an inexpensive handheld slicer to slice the pears, a great little tool to have in the kitchen. Choose a good Pecorino Romano cheese for the dressing (such as Locatelli), some Romano cheeses can be quite salty or bitter. A dressing alternative is to make a basic lemon vinaigrette and whisk in some creamy goat cheese for a milder dressing.
Salad love from Bijouxs, Italian style and a little everyday beauty.
As always, enjoy. B