Everybody's favorite Italian bread focaccia, gets a makeover–spiced with Za'atar, sesame seeds and olive oil. Simple bread baking is a little jewel.
ZA'ATAR SPICE BLEND
This Italian classic flat baked bread is commonly topped with rosemary, garlic and cheese, but most often in Italy just olive oil and salt. Sweet Focaccia is seen during the holiday season.
Topping focaccia with the fragrant spice blend Za'atar creates a savory, complex crust on the bread. Za'atar is a spice blend usually containing ground sumac, thyme and sesame seeds used in Middle Eastern cuisine, and a true jewel to add to your Bijouxs pantry. This rich, earthy-green spice blend is perfect for roasted meats such as my Za'atar Chicken & Tangerine Couscous and almost addictive on toasted pita or flatbreads splashed with a bit of olive oil. Look for za'atar in neighborhood markets specializing in Middle Eastern cuisine, gourmet food shops, or also order online.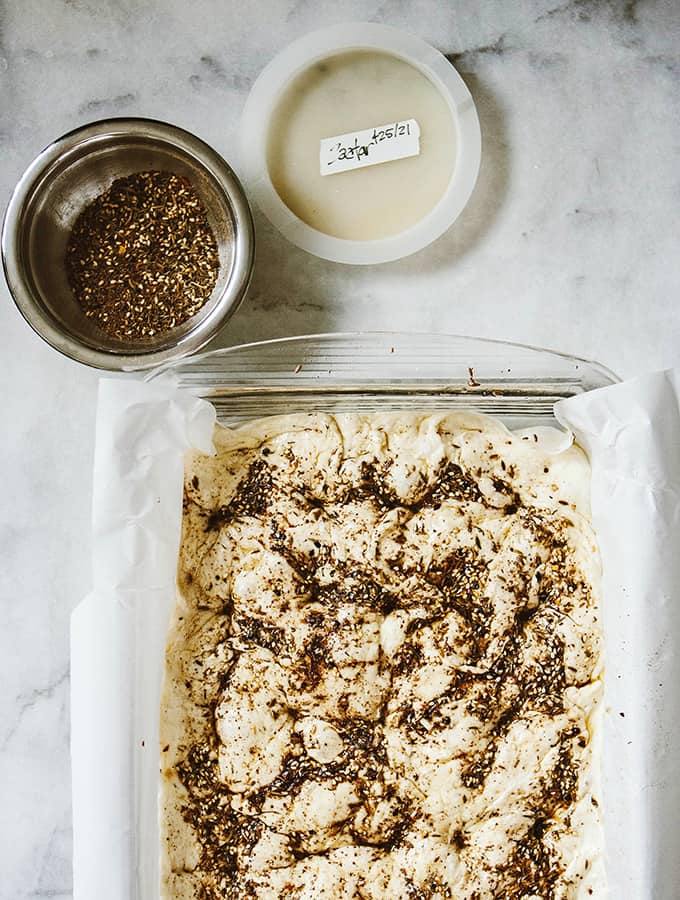 FOCCACCIA
This simple one-rise dough is easily made, much like my 15-Minute Pizza dough. I started using grams for baking measurements, using a scale that converts easily from ounces to grams. The dough is simple enough to be made by hand, then rest overnight in the refrigerator. The dough is forgiving, no need to worry about perfectly sizing to the pan, it will fill the pan during the rising process. The topping is the key here, so be generous when topping the dough. Bake the bread for about 25 minutes, or until golden brown. (My old barely-working wall oven has major baking issues, so I pulled my from the oven a bit early, thus avoid burning.)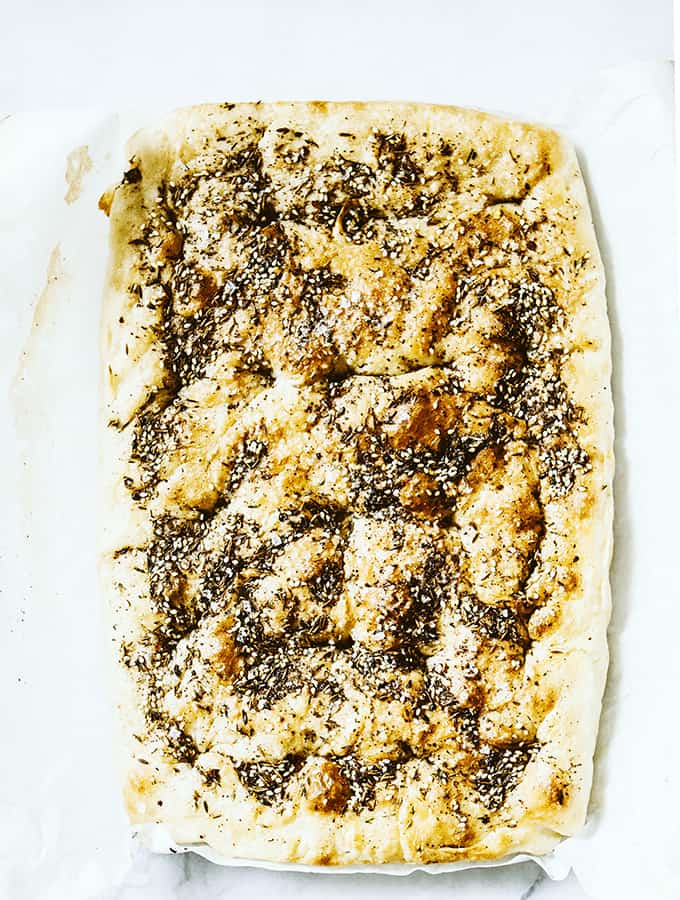 This flavor profile pairs with a hummus plate with olives and fresh vegetables. Za'atar Focaccia– a simple bread baking from the Bijouxs Kitchen. I am enjoying the cookbook One Tin Bakes, I love that everything is made in 9×13″ pans, brilliant.
As always, enjoy. B