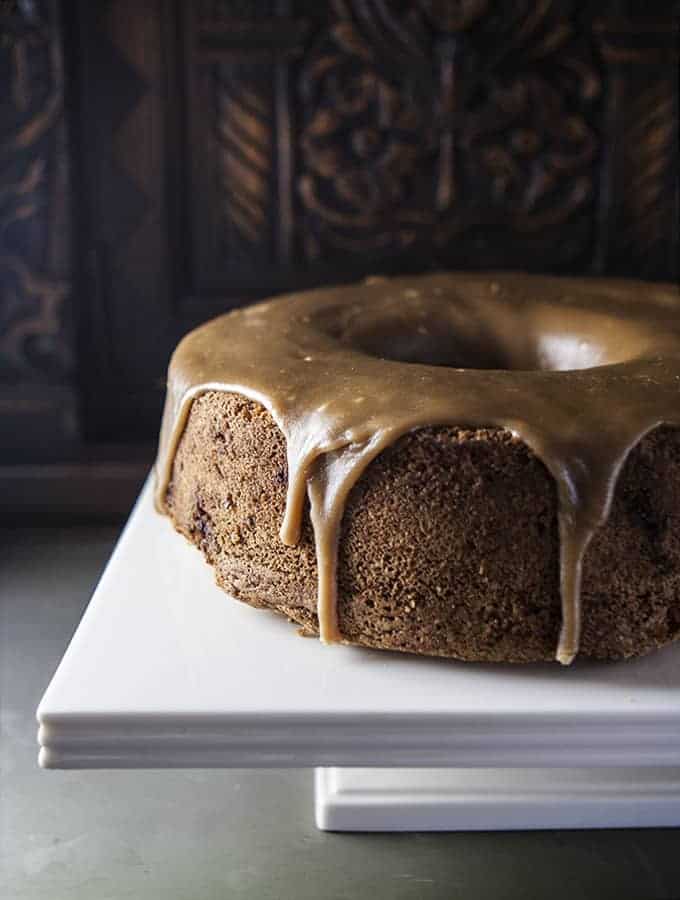 Autumn arrives, it's waning light announces a change of season; dinners, warm and cozy by candlelight and sweet treats crafted from the fall harvest.  Fresh Apple Cake with Brown Sugar Glaze–a forever little jewel from the Bijouxs kitchen.
The colors of the autumn are reflected in the season's fare: vibrant flame orange, the color of pumpkin pies and squash soup; golden candlelight reflects yellow Bosc pears; the warm browns of crisp fallen leaves, the color of hearty stews and cinnamon spiced cakes.
Fall's produce includes a prized October little cooking jewel, the Pippin apple. Pippins have always been my family's go-to cooking and baking apple. The Pippin love arrived, along with my family, from the Midwest to California, so this apple holds a special spot in my heart and my kitchen. Knowing my joy of cooking with Pippin apples, my friends at Frieda's produce provided a sample of their organic heirloom Pippin varieties.
Pippin apples are distinguished by their rough, russeted collars surrounding the stem. They are crisp, tart, and one of the best keeping apple varieties. Love! Little heirloom gems now available include: Ribston Pippin (green with an orange streaky blush) that was first grown in 1708 from one of three 'pips' (seeds) sent from Normandy to Sir Henry Goodricke of Ribston Hall, Yorkshire, England and Cox's Orange Pippin (mostly green with a touch of orange.) Both varieties are good for all around use; both in cooking, juicing and eating fresh.
Fresh Apple Cake with Brown Sugar Glaze is a culinary reflection of the fall season and remains a forever favorite recipe in the Bijouxs kitchen. A delightfully simple cake, gently spiced with cinnamon and not-too-sweet, then topped with a very yummy brown sugar glaze (think glazed doughnut!) The cake is my take on traditional apple cake, but the glaze is via Lee Bailey, a great chef who had a wonderful way with desserts.
Served on a simple white cake stand, this apple cake spans the shorter autumn days; great for breakfast on the run, a little sweet bite with a cup of tea, or warmed served with a scoop of vanilla ice cream as a fitting end to an autumn supper by candlelight.
As always, enjoy. B