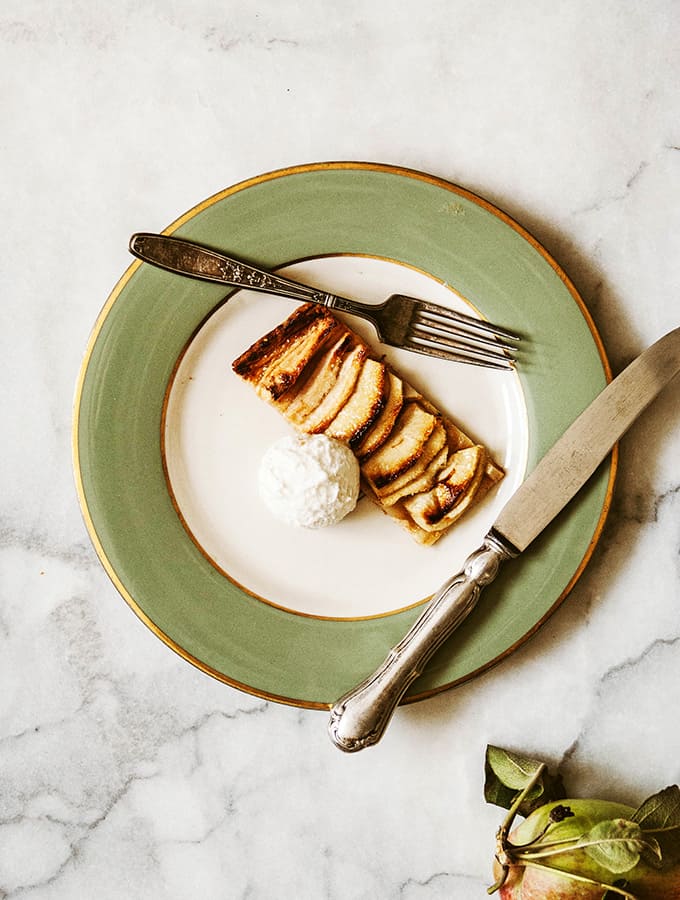 This year I found my self in the thick-of-it with apples from my new garden, many recipes ensued. Simple Apple Tart is a preview recipe from my 4th upcoming cookbook, Beautiful Food, by Design. 
APPLE CROP
This is the first year with my tiny Anna apple tree. I planted it in my new garden to remind me of the wonderful Anna tree from my home of old. The thin trunked tiny tree was planted, I had no idea what would ensure. In this first year the tiny tree yielded over 50 beautiful apples. At times, the branches bent down from the weight of 5-6 apples per branch. This really restores my belief in nature and the power of a garden.
APPLE RECIPES
Thankfully I love apples and have a collection of recipes to choose from. Simple Apple Tart is really a variation on my Thin Apple Tarts recipe, another simple apple avenue. For this recipe I used a basic sweet pastry recipe and rolled out one large tart topped with thinly sliced apples, a sprinkle of sugar and baked.
As you can see, not all the apples were the same size so they don't spread out perfectly, and of course the sugar gets a deep brown and burns slightly on the edges of the tart not to worry.
Simple, you got this. Enjoy another jewel recipe from Bijouxs.