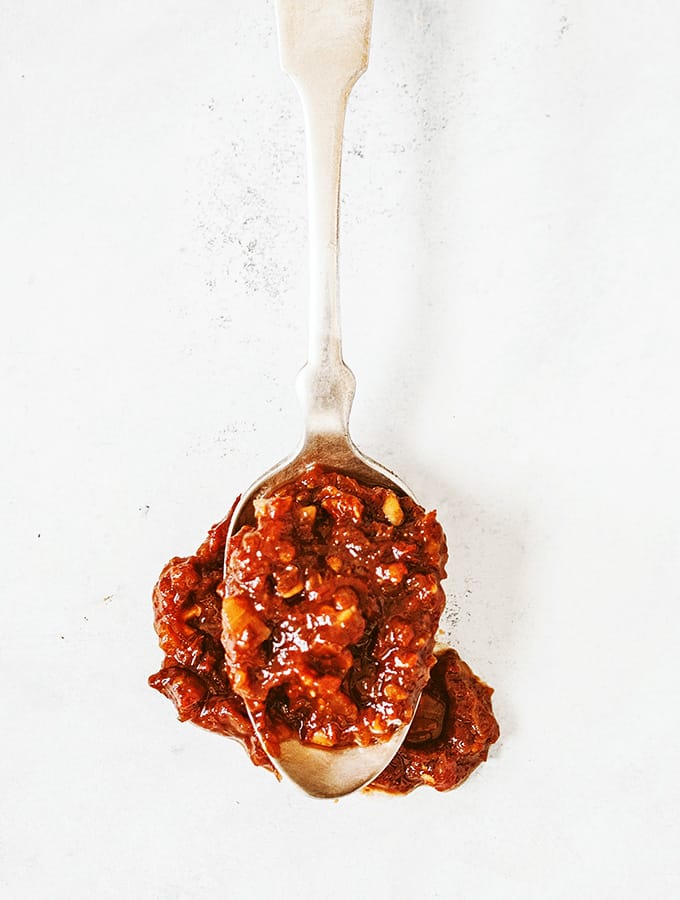 What do to with the rag-tag left over tomatoes from the garden? Fresh Tomato Chutney is a savory-sweet-hot spread for sandwiches, the cheese platter, as a dip—a versatile spread is always a little jewel.
END OF SEASON TOMATOES
I make chutney to use up any leftover tomatoes in the garden that are end of the season. This chutney is simple to make and is particularly good served with a hard cheese.
TOMATO CHUTNEY
End of season tomatoes are a perfect fit for Fresh Tomato Chutney. Never made a chutney? No worries, fresh tomatoes, onions and spices are simmered together to create a one-of-a-kind spread.
Chutneys can be a tomato relish, a ground peanut garnish, yogurt or curd, cucumber, spicy coconut, spicy onion or mint dipping sauce in Indian cuisine. A chutney often uses a tart fruit such as sharp apples or rhubarb. In this chutney, sweet raisins are the fruit of choice.
BAGUETTE WITH TOMATO CHUTNEY, CHEDDAR CHEESE & ARUGULA
A tasty sandwich is a simply a toasted hot baguette spread lavishly with tomato chutney, layered with thick slices of extra-sharp cheddar cheese then topped with bright peppery arugula. Imagine Tomato Chutney slathered on the burger of your choice, your burger to another level.
Enjoy another simple Little Jewel from the Bijouxs kitchen.
As always, enjoy. B