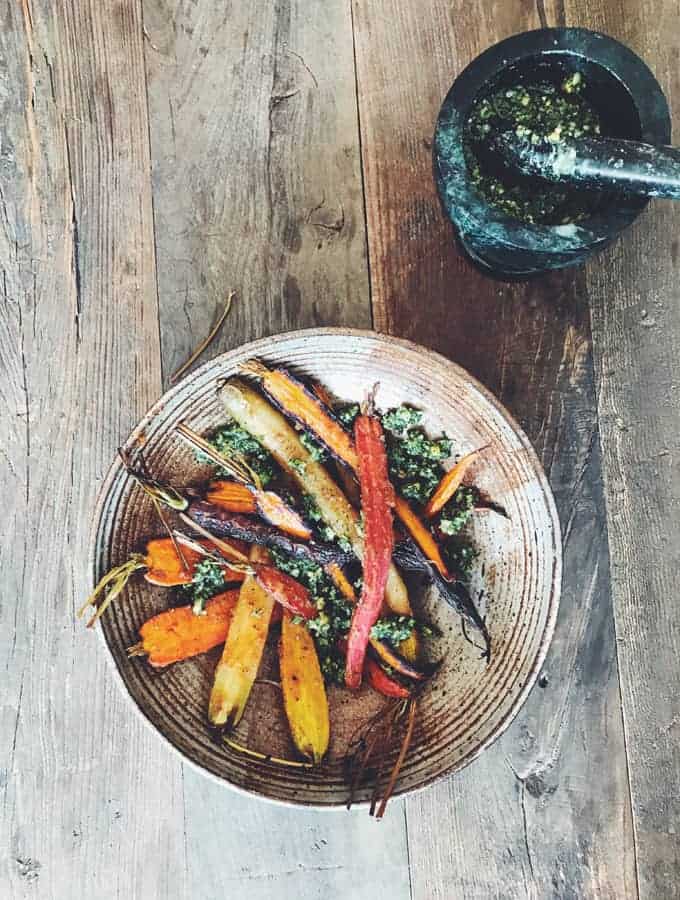 Wait, don't throw out those carrot tops! Instead make an easy pesto sauce to accompany Bijouxs'crunchy-salty-sweet Maple Miso Carrots – the newest little jewel recipe.
Maple-Miso Carrots, from my upcoming "From the Garden" cookbook, already has a new iteration – Maple Miso Carrots with Carrot-Top Pesto.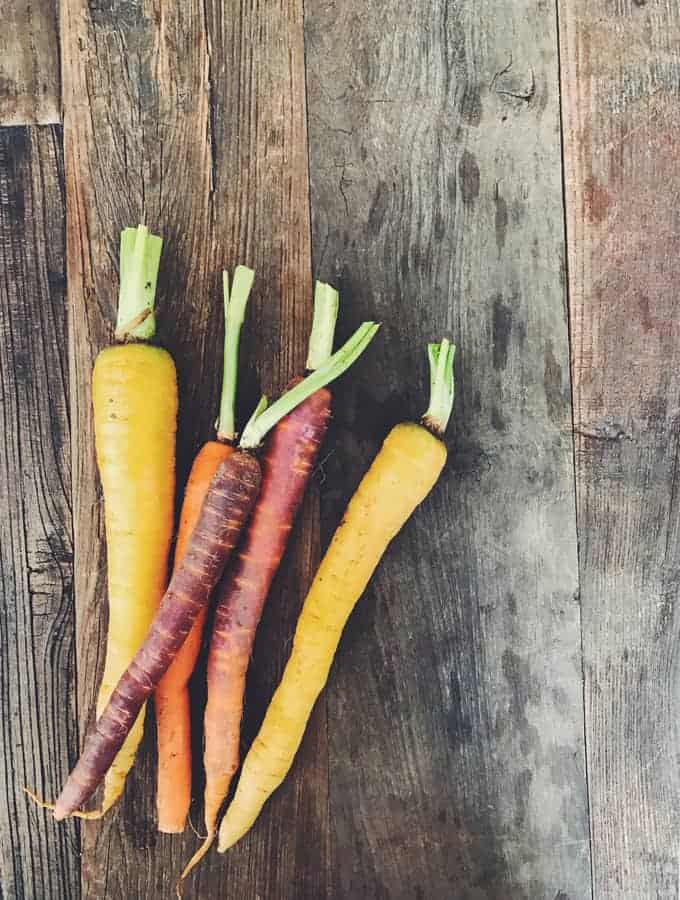 As you know, I'm now back in Los Angeles, my family's hometown for 3 generations. I'm back happily cooking with organic produce and foods. I receive a CSA (Community Supported Agriculture) box, which as I talked about in my last post, which has prompted me to be mindful about cooking seasonal and using all parts of the produce I receive. These lovely rainbow carrots arrived in my delivery.
My favorite Maple-Miso Carrots got even better with addition of the salty-crunch of Carrot Top Pesto. Not difficult to prepare and makes perfect sense. The recipe is basically the same as my Maple-Miso Carrots, with the addition of pesto, which always makes things better! Roasting vegetables brings out the carrot's sweetness and the miso is perfect salty counterpoint.
I am embracing a new start, one that focuses on the simple art of cooking. Nothing here at Bijouxs Little Kitchen Jewels is currently labor or ingredient intensive.
Bijouxs is for the home cook. I like to keep things simple and accesible to almost any cook of any skill level. Cost is also a factor, I'm using organic, but just use the freshest ingedients you can afford. The main thing is get in the kitchen and see how joyful it is to create your own meals.
Maple-Miso Carrots with Carrot Top Pesto – the newest little jewel.
As always, enjoy. B