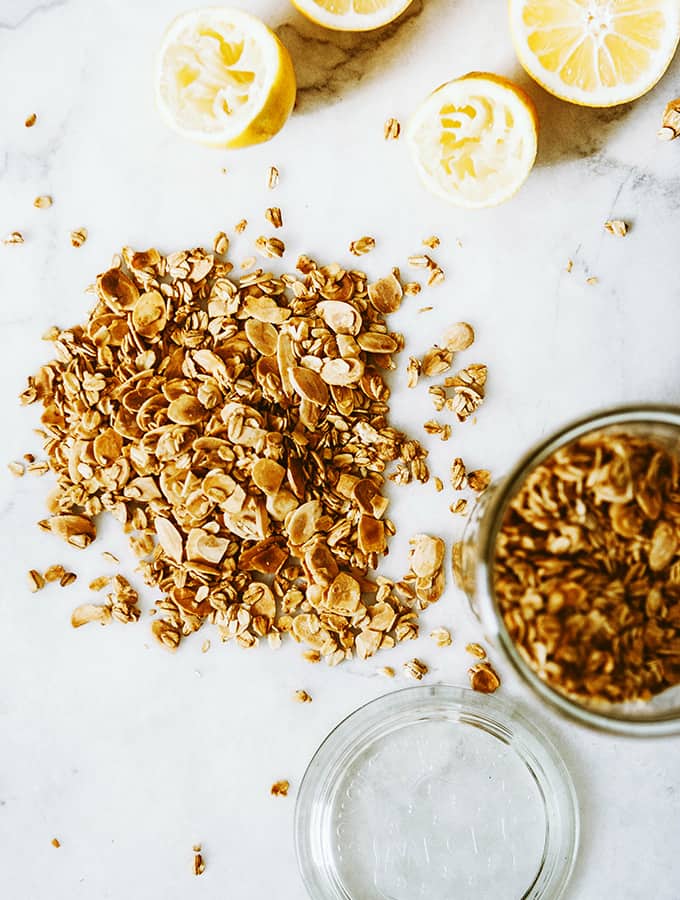 Meyer Lemon love. Start by baking up a batch of crunchy-sweet Meyer Lemon Granola, then with top Lemon Yogurt and Blackberries–a little breakfast jewel.
MEYER LEMON GRANOLA
In a quest for all things Meyer lemon and a love for granola comes this recipe for a ultra-simple not too-sweet granola that brings the spirit of Meyer lemon. You can't go wrong with this granola. Serve alone with milk product, top ice cream or as in ths post I paired the granola with tart yogurt spiked with lemon curd and topped fresh blackberries. 
MEYER LEMONS IN THE KITCHEN
I am very lucky to have a neighbor with a bountiful Meyer lemon tree, with the 'pick as much as you want' privledges. I find myself using fresh lemon for so many of my recipes. Some of the crowd favorites include Lemon Tiramisu, Meyer Lemon Pull-Apart Bread, Greek Lemon Chicken and Meyer Lemon Pudding with Blueberries.
Meyer lemons have sweeter, orange & lemon profile. Still tart, but less that a standard lemon which makes them a value in the kitchen.
Pairing the granola with tart yogurt swirled with sweet lemon curd and topped with fresh berries–another little jewel from the Bijouxs Kitchen.
As always, enjoy. B