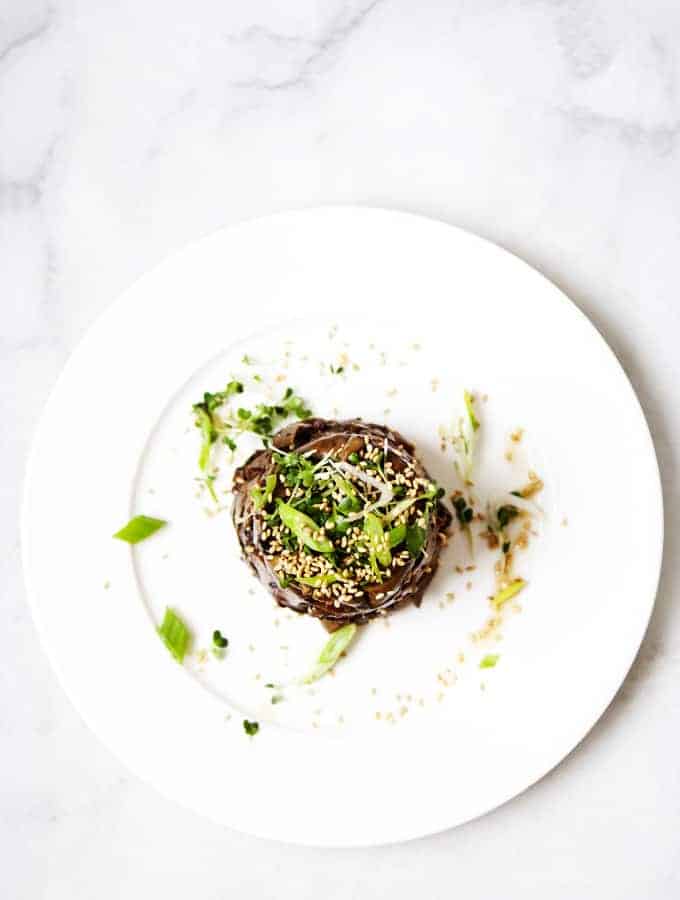 Eggplant roasted until tender, bathed in a black bean sauce. A favorite little jewel from memory – Roasted Eggplant with Black Bean Sauce.
About 100 years ago, (ok, it just seem like) we dined atop a sunny Hollywood hill, seated in a luxurious setting. Large round tables dressed in starched white cloths, with a spinning Lazy Susan, plate after plate, all up for grabs.
Ordering a multitude of Chinese inspired delicacies – Salt & Pepper Crusted Prawns, Bok Choy with Oyster Sauce, and my favorites, everything in black bean sauce – from crab to this little jewel, Roasted Eggplant with Black Bean Sauce.
Really very simple to prepare, and oh, so good with hot, steamed rice. Instead of usual stir-fry, I roast the eggplant, plating tower-style. The salty-rich black bean paste is infused with garlic, further contributing to the flavor punch.
Prepare the sauce in a bowl, then taste to adjust the amount of black bean paste. I enjoy it salty-rich, season to your own liking. The smaller Japanese variety of eggplant works best in this dish, they soak up all the rich salty goodness.
Please enjoy the lovely little side, from the Bijouxs Little Jewel Recipe Collection.
As always, enjoy. B