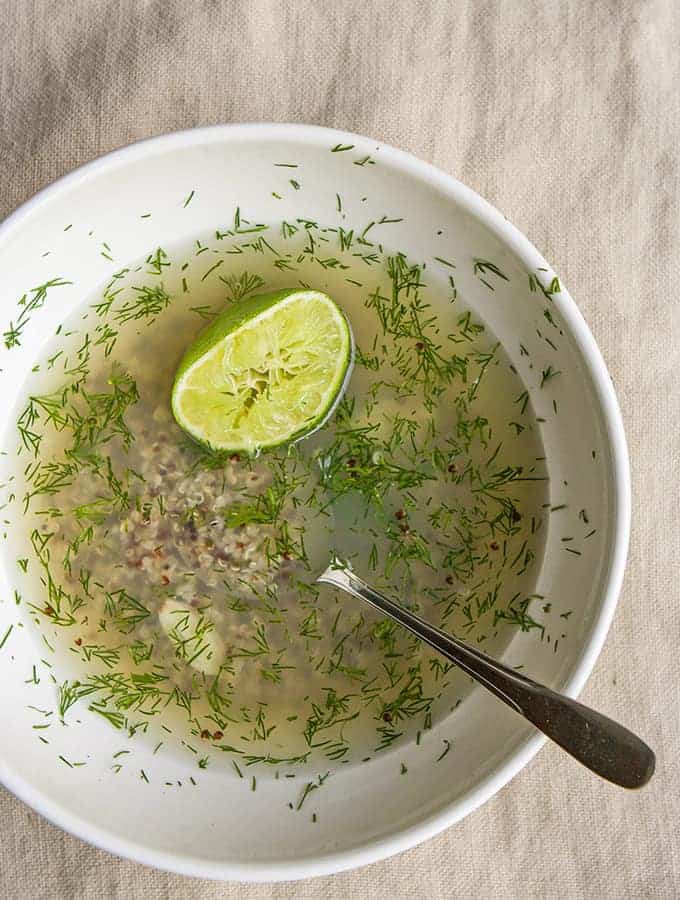 Oh happy days! Daylight Saving Time is here, signaling Spring is on the way, the promise of warm days ahead. Ah, but I am little ahead of myself… there are still some chilly days ahead in March.  The Feel Good Bowl is one to keep on the menu–a little gem to chase the chilly winds of March.
This winter had us all on ice. Here at Bijouxs it felt a little bit like "camp grumpy" fighting bouts of winter colds. It's nice to wrap yourself around a steaming bowl of soup. The Feel Good Bowl is easy to prepare, which is important when you are feeling under the weather.
This everyday bowl is a go-to in the Bijouxs Little Jewels Collection–a garlic infused broth, with delicate grains of quinoa and the tartness of fresh fill and fresh lime. I also like to think of this soup as a Spring tonic–clean, fresh and light.
Feel good quick! First, prepare the quinoa, cooking about a cup of dry will do. Begin The Feel Good Bowl by steeping a clove of garlic in the the broth, stir in the cooked quinoa, add lots of fresh dill and a squeeze of fresh lime–enjoy.
The basic recipe is of course just starting point–customize! Some ideas? Substitute chicken broth and fresh lemon; swap out the dill and use your favorite herb, such as parsley. When I feel I need a swift kick in the pants, I double the garlic, add fresh sliced ginger, fresh cilantro, and a dash of pantry favorites, Thai fish sauce and chili garlic paste, for an extra-warming bowl. Let me know your favorite combinations!
Ahhh… The Feel Good Bowl–here's to looking forward to the jewels of Spring!
We're joined this week by many new readers thanks to having been cited as one of Foodie Crush's "Friday Faves." Thank you to publisher Heidi, who comes as I do from a design background that she now combines with a food fetish via her blog. Drop by Foodie Crush, take a look, and join Heidi as she discovers other noteworthy food blogs.
As always, enjoy. B