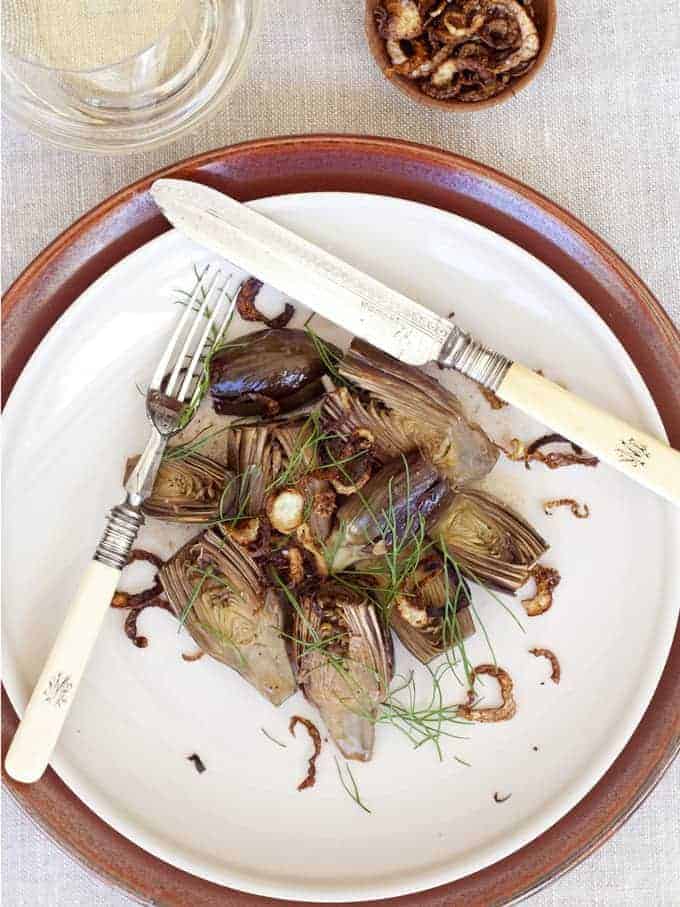 Crispy fried fennel and garlic in oil, delicate baby artichokes early in spring, these are a few of my favorite things. When spring produce arrives, things really begin to sing in the kitchen. Baby Artichokes & Crispy Fennel – little garden jewels.
The bounty of spring produce lightens and brightens our menus, looking to the warmer days ahead. Artichokes, garlic and fennel, a few of my favorite things, paired for an Italian inspired first course.
Pretty little purple artichokes, sent to Bijouxs from our friends at Frieda's produce to sample during their artichoke festival, recalled a favorite pairing with garlic and fennel. These purple little gems, Fiesole, are available this week at Ralph's Markets, making is easy to sample boutique produce even if you can't make a trip to the farmer's market.
The beauty of using these diminutive artichokes is that they are completely edible, just remove the tougher outer leaves, a trim top and bottom, a quick braise and they are on the table. The delicate hint of anise is layered in the recipe with a topping of crispy fried fennel, echoed by a dash of Pernod (anise liqueur) and fresh fennel fronds.
A lovely spring first course, purple little jewels with garlic and fennel, a few of my favorite things.
As always, enjoy. B