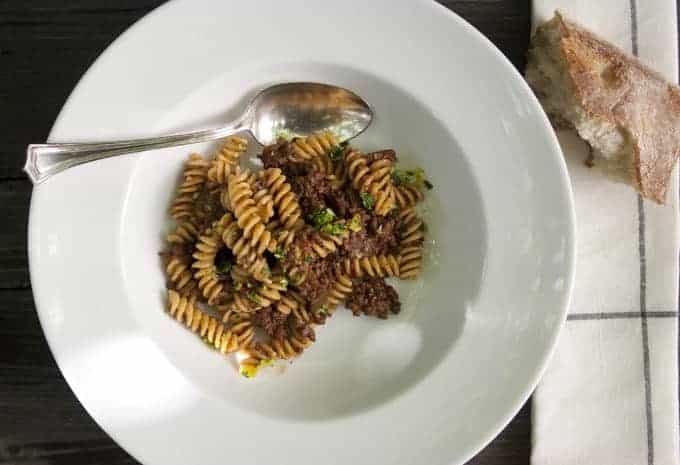 Every house needs a ragù, well, at least one really great meat sauce recipe to toss with your favorite pasta, a little jewel of a recipe you can count on. Bijouxs House Ragù is meaty-rich, dotted with bites of porcini mushrooms, and brightened with a fresh gremolata. Join Bijouxs on the patio for our House Ragù.
I was born craving summer; the dry thermal warmth of the Southern California season warms my bones, but there is also a genetic response to summer: start relaxing, almost to the point of being lazy, thus creating a cooking routine that becomes very laissez-faire in nature.
The simple summer pleasure of lingering over a late afternoon summer lunch on the patio in sun dappled light around a no-fuss ancient picnic table just feels right. Bijouxs House Ragù echoes the simple mantra – a classic take on ragù Bolognese with beef, porcini mushrooms and tomatoes, slow cooked until it is a rich, thick, deep chocolate brown. Easier yet, all the ingredients, sans the beef, you probably have in your pantry.
Bijouxs House Ragù is a rich brown pasta sauce, not anything akin to a classic tomato- based pasta sauce and a Bijouxs Basics. This rich sauce seems to coat a pasta like fusilli well, again simple to serve and to eat. I serve the pasta dressed lightly with the sauce, passing extra sauce on the side for those who would like a little pasta with their sauce. A classic gremolata of garlic, lemon and parsley adds a bright, fresh note, much as it does for Osso Bucco.
A few containers of Bijouxs House Ragù in the freezer ensures a relaxing meal is just a pot of boiling water away and adults plus little ones alike favor this beefy, simple sauce. Toss a crisp green salad and add a loaf of rustic bread, you are now ready to enjoy a family lunch Bijouxs style – it's summer, time to relax.
As always, enjoy. B