Bijouxs month of holiday sides continues with a classic side that takes a Bijouxs twist – Creamy Spinach with Pancetta – fresh spinach leaves take a cream bath along with ribbons of crisp pancetta and topped by a bubbly Parmesan crust. A rich little gem for the holidays table.
The star of this side dish is the spinach and a lighter, loose-styled cream sauce keeps the focus on these delicate greens. The switch came to me when dining long ago at a favorite Italian restaurant that served fresh spinach leaves (with the tender stems) in a hot steaming bowl with broth with just a hint of red pepper flakes. Twisting tender leaves around the fork, perfect bites were formed of spinach with still the hint of the broth; why not translate this experience to creamed spinach?
This is not your regular creamed spinach – not the chopped up, thick-sauced version, rather fresh spinach leaves floating in a thin, creamy bath, punctuated by bits of crispy mild Pancetta, from Bijouxs favorite La Quercia and topped by a gratin crust of Parmesan cheese. Tender ribbons of spinach leaves curl into perfect bites when twirled with a fork, delicately flavored by the light sauce, an almost a pasta-like experience.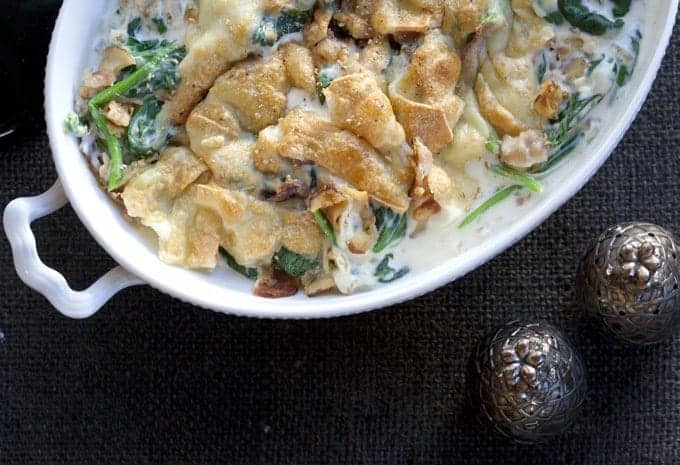 Bijouxs Creamy Spinach may be served as one single side, guests lifting and twisting rounds of the delicate leaves to the plate with a serving fork, just a hint of the creamy sauce still clinging to the leaves, or divide and serve in individual ramekins, depending on the formality of the menu.
A little serving trick if you wish to serve the spinach in a non-oven proof dish (such as a family heirloom) you can carefully use a kitchen torch to gently brown the parmesan crust or without a torch on hand (which happens!) I have lined a similar sized oven-proof dish with foil sprayed with vegetable oil, layered the spinach dish together, broiled, and immediately and carefully slid the creamy spinach from the foil directly into the serving dish, keeping the crust intact. This just in case you find yourself with a serving dish dilemma.
The tabletop includes a juxtaposition of textures and style in black and white; rough burlap, modern shiny square dinnerware, simple white linen napkins, heirloom flatware and serving pieces punctuated by a shock of coral roses.
Creamy Spinach with Pancetta brings a comfort classic with love to your holiday table, a little jewel from my table to yours.
As always, enjoy. B