Apricots are the golden little jewels of the summer season. A simple everyday jam is easily made from ripe apricots and the surprise ingredient, fragrant lemon verbena. Everyday Apricot-Lemon Verbena Jam, a simple little jewel for summer.
LEMON VERBENA
In every home, in every garden, I have planted the lovely herb lemon verbena. Its leaves add a fresh, sweet lemony-herb flavor to meats, sauces and baked goods. A companion herb, Lemon Balm, is an herb I also plant, together they are used in one of my favorite recipes to scent and create a lovely cake. (Coming in another book). Lemon verbena is a rather twiggy herb, growing  5-10 feet given the right conditions, and well worth planting. You will notice many products, such as cologne, scented with this herb.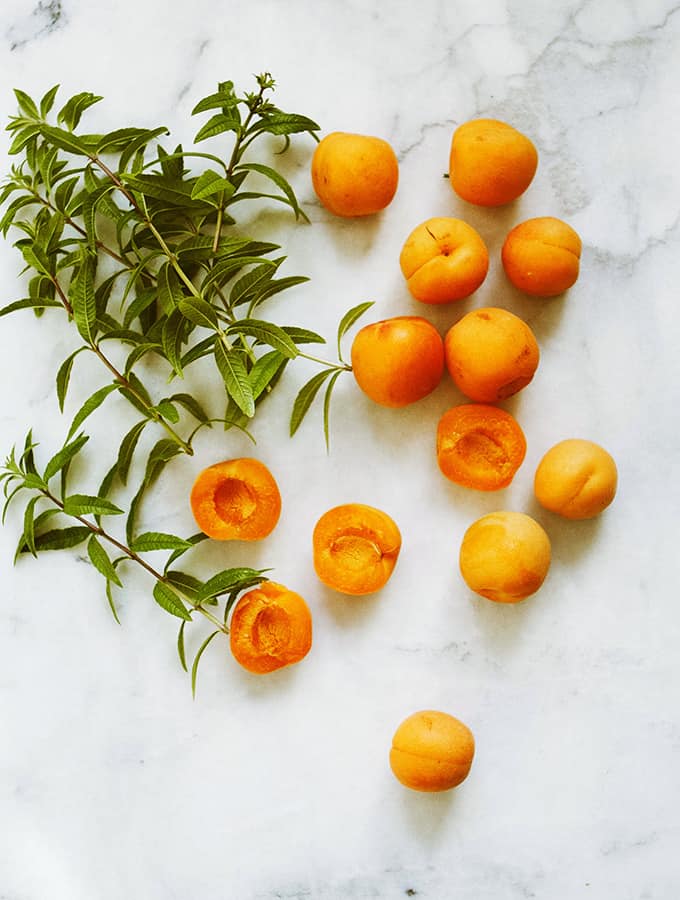 HERBS IN THE GARDEN
I have always planted herbs in the garden, often interspersed with my vegetables. A favorite book from my gardening library is Herbs by Tolley and Mead (1985). A search discovered you can still pick up used copies online. Herbs liven up so many recipes and can be grown in a garden or even in a small window box.
EVERYDAY JAM
I love making what I call "everyday' jams, which are really basically fresh fruit and sugar, cooked until the fruit softens and the sauce thickens. No need for pectin. These jams are refrigerator jams, keeping for about two weeks under refrigeration. The fruit is coated with the sugar-herb mixture, then off to macerate in the refrigerator, the fruit giving off its juices and marrying with the sugar.  Then on to the stove, to gently simmer to reduce and soften the fruit.
Lovely spread on toast with creme fraiche, and of course a cup of coffee. Everyday beauty all around us, right here in our kitchens, Everyday Apricot-Lemon Verbena Jam.
As always, enjoy. B