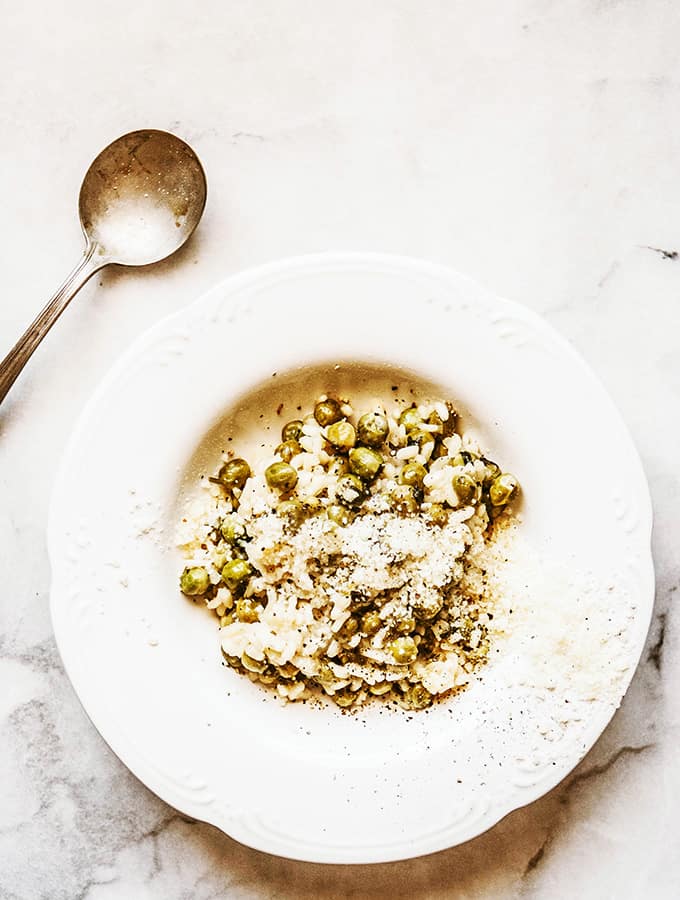 The peas are green! Spring has begun! Long live Venice!" The April 25th Venice tradition is for the Doge (the Chief Magistrate) to taste a spoonful of the city's most famous dish, Risi e bisi, in public to annunciate the start the Feast of Saint Mark. Risi e bisi (Rice with Peas) marks the start of spring – join Bijouxs in celebrating this little jewel of dish.
SPRING IN VENICE
Once again I want to share this seasonal Spring recipe. The charming book Venice of Food by Sally Spector transports the armchair traveler on a journey to sample the foods of Venice. I perfected my version of Rise e bisi via this book, and relish the luxurious palate created from the recipe's simple ingredients. A mere five ingredients; fresh peas, onion, butter, olive oil and Parmesan cheese make up a dish that is so much more than a plate of rice and peas. All traditions considered, Risi e bisi is a risotto dish with a special characteristic, that of riso all' onada, rice with a wave, a risotto that is more liquid than its traditional Milanese counterpart. I make it every April when fresh peas become available.
FRESH GREEN PEAS
Risi e bisi really needs to be made with fresh English peas, so in keeping with the Bijouxs goal of bringing you seasonal recipes, you will encounter fresh peas this month in markets from Melissa's Produce, who gifted us these lovely peas. The true jewels of this dish are the peas. The pods do not go to waste, they are gently simmered to create a pea-infused broth that you will add as you cook the risotto. If you extend Risi e bisi your full attention for the 18 -20 minutes required (silence the iPhone), you will be rewarded with a creamy plate of Risi e Bisi.
Viva Venezia! Spring has begun! Grazie. True Bijouxs.
This post is in conjunction with product samples I received from sponsor company to help in the creation of this recipe. All opinions are mine alone.
As always, enjoy. B