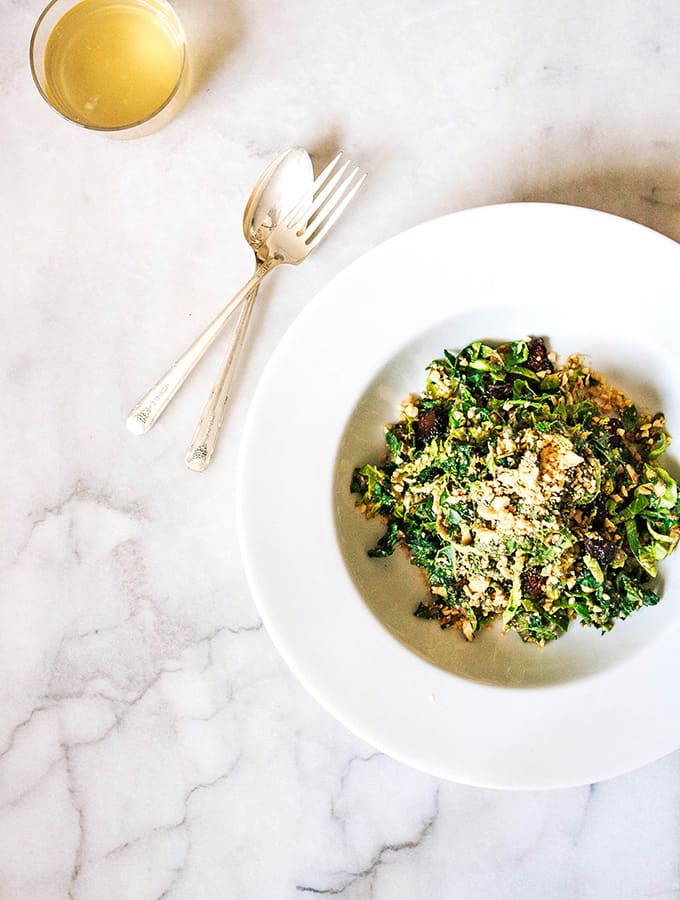 Summer slaws are the classic side for BBQ's, salads with staying power. Shaved Brussels sprouts and kale are dressed with a non-dairy creamy sweet-spicy dressing. Sweet & Spicy Summer Slaw is a simple little jewel for the summer.
SUMMER SLAWS
Hi everyone, boy the heat is on, so I will keep this short & sweet. I went searching for a different kind of summer slaw recipe. I wanted one that pairs well with an outdoor BBQ or can stand alone as main course salad for lunch. My two favorite salads are comprised of shaved raw Brussels and the other chopped kale –why not pair the two together?  I also finally started cooking from the Cafe Gratitude Cookbook I have had on my shelf for months. I came across a recipe for a creamy "chutney" recipe that sounded great- hum..why not turn that into a dressing for the slaw?
The dressing components include dried Black Mission Figs (sweet), jalapeño pepper (spicy) and fresh mint. Coconut milk creates the creaminess, making this a non-dairy slaw dressing. I adjusted some of the ingredients and added sliced figs in the salad and topped it with the crunch of Marcona almonds. 
My creative kitchen efforts were rewarded.The slaw is simply healthy and full of crunchy flavor. A plus is that it holds well, making ahead is an option for a BBQ or picnic at the beach. 
EVERYDAY BEAUTY
I have chosen to take this period of time in isolation from others and life to explore kitchen creativity, clean out pantry shelves and view everyday as a gift. There is everyday beauty all around us, right here in our kitchens. Stay well everyone.
As always, enjoy. B