Leave it to the Italians, the masters of simply beautiful food. Here is one of the simplest and tasty ways to cook an artichoke-just 3 ingredients. Sicilian Roasted Artichokes, savor this little jewel.
BEAUTIFUL ARTICHOKES
The beautiful purple artichokes are making their way into the markets. I found these at my local Trader Joe's and snagged some pronto. The beautiful, rich purple hue, flecked with green tips on the leaves makes this vegetable a real stunner.
These days, like most of us, I am embracing simple food, but that does not mean it cannot be healthy and a feast for the eyes. Simply beautiful food for the home cook has been my mantra, and a large part of the recipes I share with you here at Bijouxs. This is the real food I cook and share with family and friends in my home. I can't think of a better way for me to show my love for others.
SICILIAN ROASTED ARTICHOKES
Food is at the cornerstone of our daily life, so why not savor all the beauty nature provides us? By keeping things simple you also practice economy and grace in the kitchen, taking just what you need and preparing the ingredients with honor.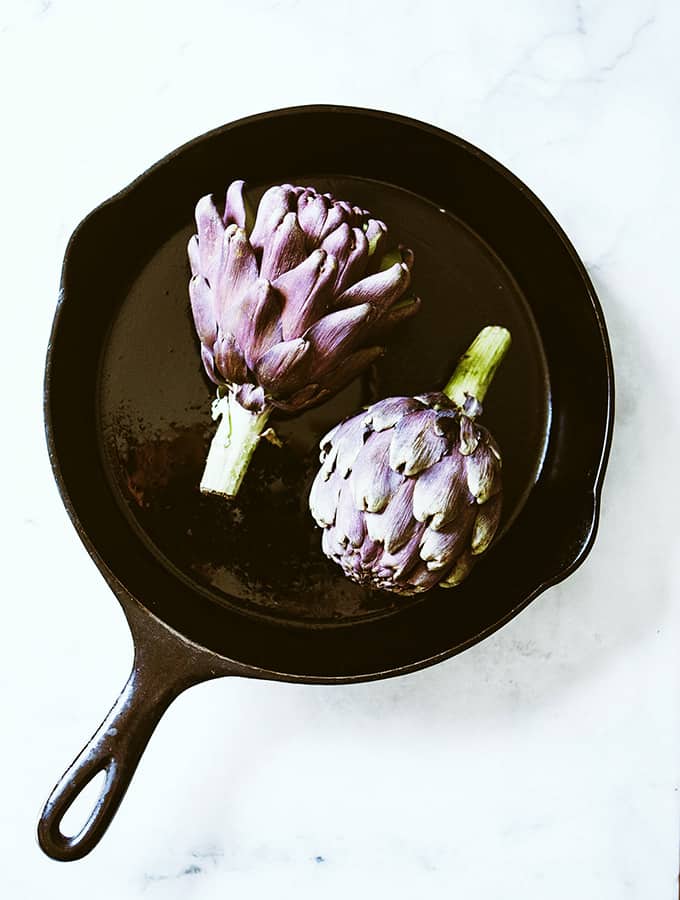 No special equipment or skills are required here.  A heavy cast iron skillet works perfect, evenly distributing the heat. I use a lid during the cooking to ensure the heat stays in, almost the same as roasting in the oven.  I enjoy the crispy way with artichokes, such as Baby Artichokes with Crispy Fennel, Artichokes Provencal, or another Italian way, Roman-Style Artichokes with Mint. Try out one of these recipes, this crispy texture is a change from steaming, or baking, which are also wonderful ways with artichokes.
BEAUTIFUL FOOD BY DESIGN
Artichokes are beautiful before, during and after preparation. My food photography theme is:  Product, Process, & Plated.  In the this case, the dining aftermath is a lovely mess. Savor the summer.
As always, enjoy. B