Summer simple. What could be better than a no-cook pasta sauce that embraces the ideal of a Sunday Supper? My love is Penne with Sun Dried Tomato Pesto, a little jewel from the collection.
Summer cooking. One of my all-time favorite summer cookbooks is Cucina Fresca by Viana La Place & Evan Kleiman. Italian food, simply prepared and served cold or at room temperature, have I got your interest?
CUCINA FRESCA
This little jewel of a classic cookbook was released in 1985, yes, I was around then, and actual a newlywed, working in design. These simple serve cold or room temperature dishes saved me. I love to cook, however when you are working and driving all over LA in the hot summer sun, these recipes save your life.
One of my all-time favorites from this book is a pasta with Sun-Dried Tomato Pesto. Here I have morphed this with a recipe not from the book, but shared by my friend Private Chef Robin Goldstein, her Sun-Dried Tomato Spread. My Penne with Sun Dried Tomato Pesto takes the richness one step further and of course, I have added a few things not original to the recipes, which I think are keepers.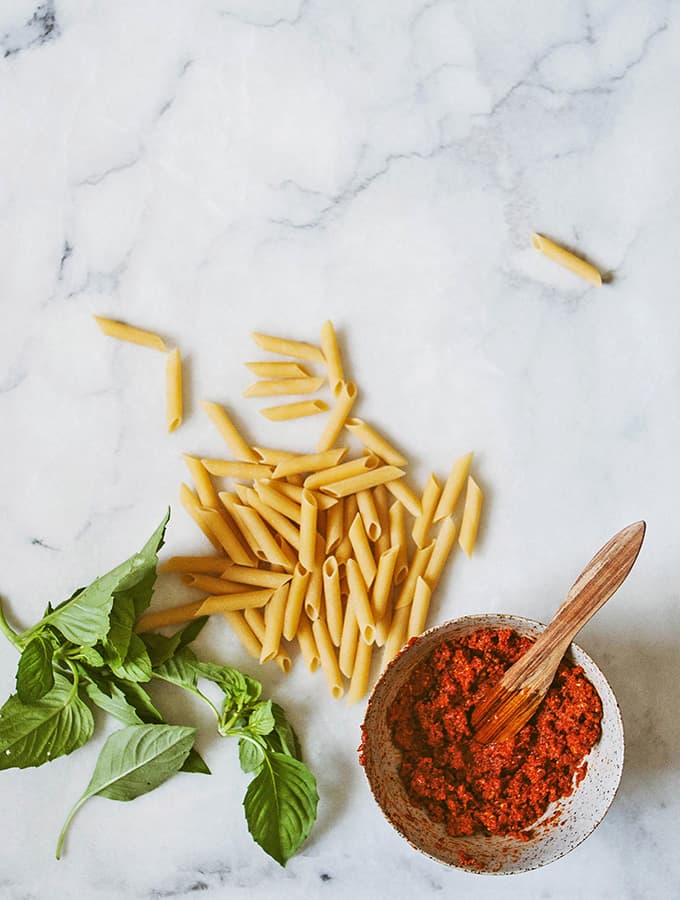 SUN-DRIED TOMATO PESTO
The base of the recipe is sun-dried tomatoes packed in their flavorful oil. This flavored oil becomes the oil for blending the pesto, adding extra olive oil as needed. I have included in my pesto sauce my favorite spicy Italian Calabrian Chili Peppers. These are now available at Trader Joe's, I could only find them at Italian markets.  I also added a really salty-brined sheep's milk feta cheese, also at Trader Joe's. Due to health concerns these days I venture out to few places, only as needed. 
Keeping Summer simple with Penne with Sun Dried Tomato Pesto, a little jewel from the kitchen.
As always, enjoy. B