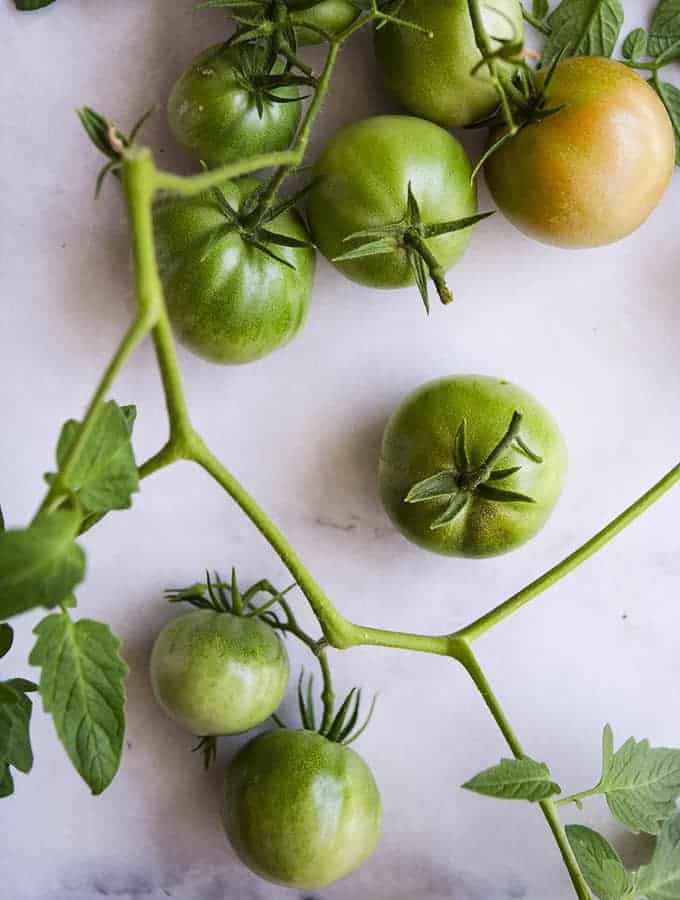 Sometimes, a walk out into the garden defines the next meal – such is the case with this Fried Green Tomato Frittata– a little jewel recipe of necessity.
Strange. That's the one word that describes the weather this year. My garden has reflected this strange weather, yielding crops off-time and off-topic. The always reliable Anna apple tree produced a bountiful yield of strangely diminutive fruit; I blinked and the delicate peach crop had all become fallen fruit. My French Carmello tomato plant seemed impervious to winter this year and carried on producing tomatoes, barely missing a step. Now, it strangely is producing what appears to be an 'end of season' crop, which is being quickly devoured by the hungry, hillside wildlife. Time to 'use it or lose it' as far as the tomatoes go.
Green tomatoes are an acquired taste. They are crisp and tart, yet slightly sweet with a still distinctive tomato flavor. When the 'end of season' greens appear, typically in October, I reach for favorite recipes in the collection. First to mind is something simple, as it is still summer with occasional blasts of wicked heat– a take on a Green Tomato Omelette from Chef Deborah Madison.
Greens Restaurant was a pilgrimage site I often visited in San Francisco to savor fresh and innovative vegetarian cuisine. After Madison left the restaurant, I followed along with her cooking, via her book The Savory Way – a cookbook embracing her move to the desert southwest, also embracing a style of cooking far from the lush produce markets of California.
For this frittata, eggs, herbs and valued slices of fried green tomatoes (coated with a crispy Panko-Parmesan crust) create a simple supper – happy to be served warm or at room temperature. If you are lucky enough to gather some green tomatoes (unripe tomatoes) choose ones of a medium size in order to avoid any bitterness. I love the ease and flexibility of a frittata, easily embracing my bounty of green tomatoes.
A meal from a walk in the garden, always a little jewel.
As always, enjoy. B