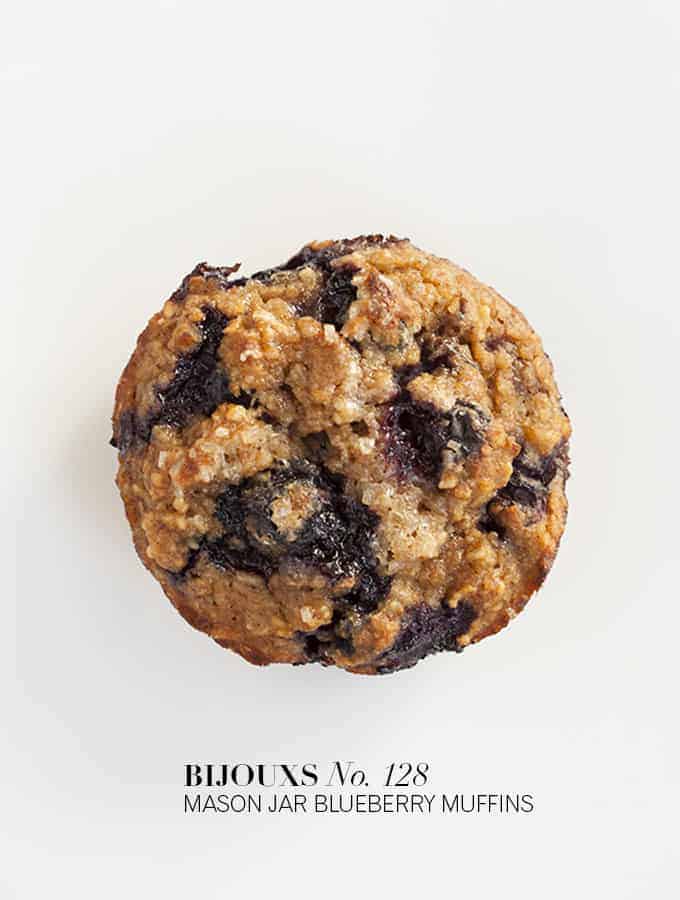 It's time to head off for the weekend and more Mason jar cuisine is here to get you packing. Mason Jar Blueberry Muffins with a crunchy sweet crust are bursting with fruit and with just a quick mix into a Mason jar they are off for the weekend to create a carefree breakfast. These muffins are little kitchen jewels you'll want to add to your collection.
In following the lead of last week's post, here is another recipe in the Mason jar cuisine series to make you life so much easier on a weekend trip, or a 'staycation' weekend for that matter!  I'm off to visit friends, what a perfect little gift to wake up to the smell of freshly baked muffins.
This muffin recipe has been in the Bijouxs Little Jewel box collection for a very long time, now a  regarded favorite from Peggy Kickerbocker's original article, there is no one like a caterer to speak about taking food on the road. Thank goodness for Mason jars.
What qualifies these muffins as kitchen jewelry is a combination in the ease of preparation and their moist not too sweet flavor. No flour is used; just the whole grains of muesli cereal, fresh fruits, a healthy dose of skim milk ricotta cheese and spices. Bijouxs has of course slightly adapted the original recipe, omitting the bran (may be a tad too much fiber for some tummies) and incorporating a sprinkle of raw sugar to create a sweet, crunchy crust.
I'm always the first up, so I heat up the oven, put on the coffee and pour the batter in the pan. In 20 minutes the muffins are baked, then placed in one the travel baskets, lined with my 'must have' deli wrap wax paper sheets (great for hand held treats) along with a  Mason jar of fresh juice with a note (which no one can usually read due to my funny writing) welcoming everyone to help themselves. Of course, to the chef go the spoils, as I steal away early with a hot muffin and coffee, waiting for the stirrings of others.
These easy-bake muffins are a perfect recipe to make the batter the night before and bake for a carefree weekend breakfast – fruits and oats make these moist muffins a breakfast bowl in a muffin.
Sharing the kitchen jewels is what Bijouxs is all about.
As always, enjoy. B