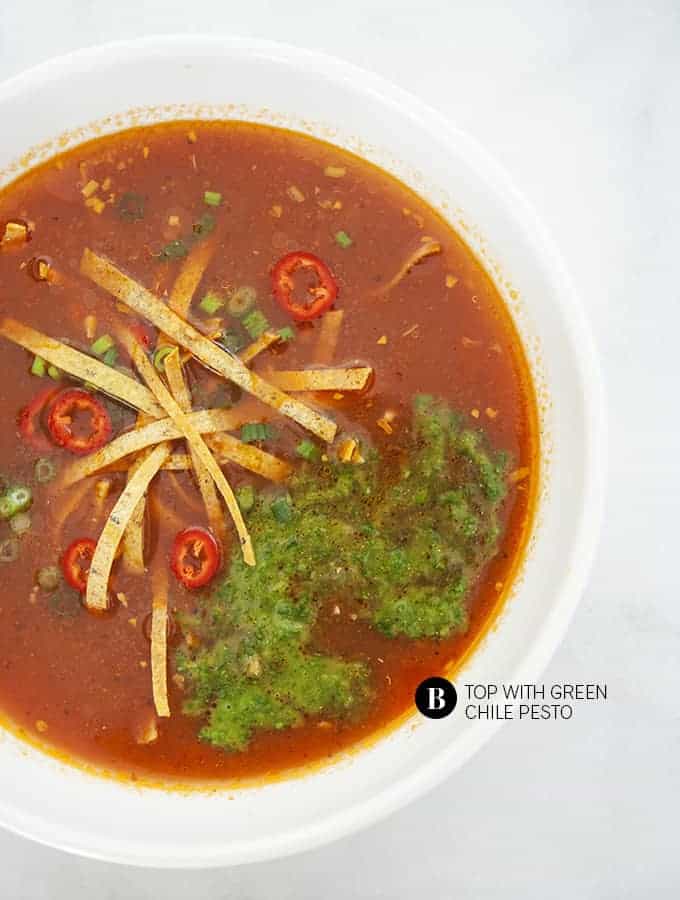 Tortilla Soup with Green Chile Pesto is a feel-good bowl you can feel good about. Quick–it cooks up in about 15 minutes. Light–the soup's signature tortilla strips are baked, not fried. Just grab canned tomatoes, broth, and spices from the pantry–let's go.
Tortilla soup is a Southwestern-style bowl of comfort. A garlicky-tomato spiced broth, heaped with thin strips of crisp tortilla "noodles" and the fresh addition of a heaping spoon of green chile pesto. The soup is an everyday favorite in the Bijouxs kitchen.
The green chile pesto is tart, but still brings the heat, packed with cilantro, parsley and roasted green chiles.  Stirred into the soup last minute, the green chile pesto adds a fresh, green punch. Using seasonal fresh roasted Hatch chiles both for the soup and the pesto, provided by our friends at Frieda's Produce, really compliments this light soup nicely. Of course, you can also utilize canned roasted green chiles as well. It's all about comfort–and convenience!
This soup is a nice warming finish after a long day at work or school. Bake the tortilla strips the night before, then just make the broth and pesto and in about 15 minutes soup's on! Add in extras such as shredded pieces of roasted chicken or chunks of avocado for meal in a bowl.
Enjoy a feel-good bowl of Tortilla Soup from Bijouxs!
As always, enjoy. B