Back to basics here in the Bijouxs Kitchen. Classic recipes that comfort the soul. Beautiful, simple food from our kitchens–Bijouxs Basics: Shallot & Garlic Confit.
SHALLOT & GARLIC CONFIT
It's time again to tighten up our food budgets and get back to basics in the kitchen. We all know the rising costs of life, which at the heart of it, are our food costs. Keeping things simple helps to manage costs while still creating healthy and tasty food for our family. Bijouxs Basics: Shallot & Garlic Confit is a creative condiment to have on hand, adding flavor and complexity to even the simplest of recipes. Add the confit to roasted vegetables, pasta, and omelettes.  Also use to make a flavorful vinaigrette, the olive oil is packed with flavor. 
The French word "confit" literally means to preserve. It's a classic technique used by home cooks and chefs to slowly cook an ingredient in a fat. You may have heard of classic duck confit. You can "confit" vegetables and even stone fruits. Hum, peach confit? It is a good technique to add to your cooking skills.
BIJOUXS BASICS
A well-stocked kitchen pantry creates all the cooking options you need. Keeping the Bijouxs Basics in the house allows you to cook creativly any day of the week. In addition to Shallot & Garlic Confit, some my favorites to have on hand are Everything Butter, 15-Minute Arrabiata Sauce, Tomato Sauce, Gentleman's Relish (think steak sauce) and Green & Black Peppercorn Dressing. 
SHALLOT, GARLIC AND BLUE CHEESE TART
I used Shallot & Garlic Confit to make this quick savory tart. Start with frozen puff pastry, rolled thin, spread with creme friache, and Dijon mustard. Drain garlic and shallots add to the tart and finish with a generous crumble or blue cheese. Bake at 400 degrees until crispy and bubbling.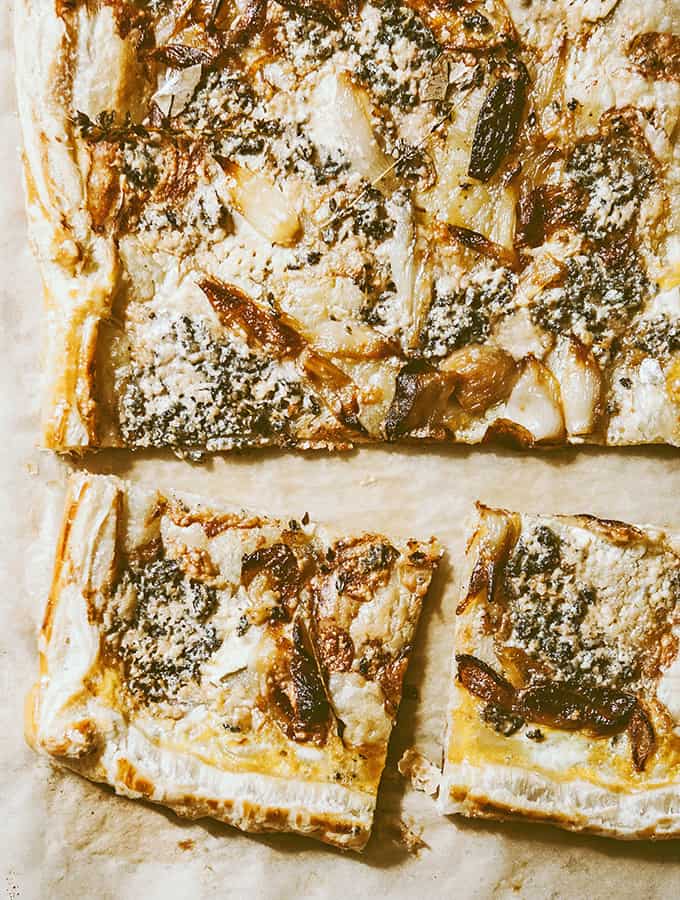 Bijouxs Basics, always a little jewel. Sign up for the recipe newsletter, just recipes no spam.
As always, enjoy. B