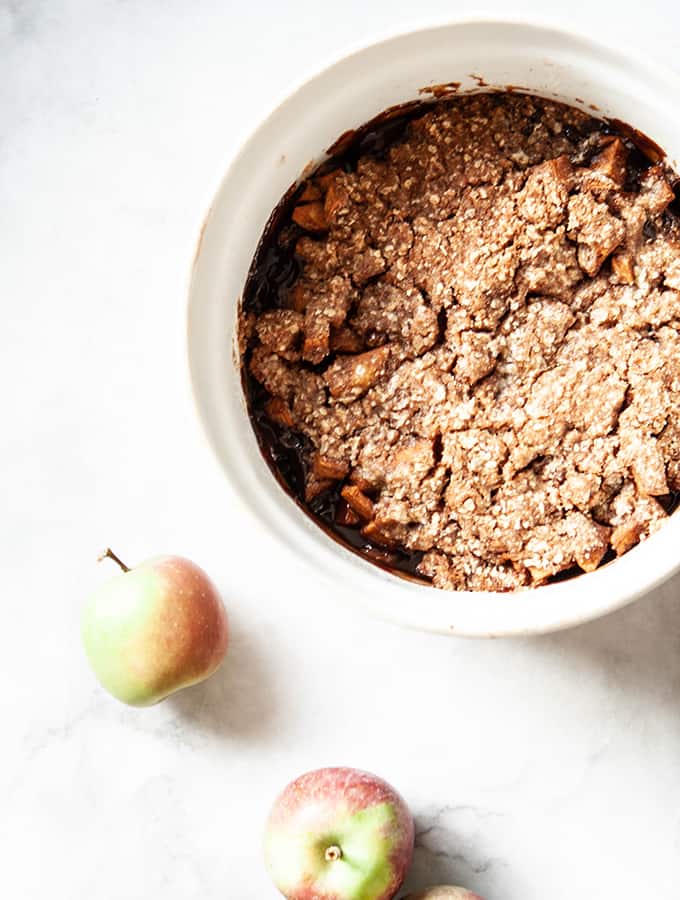 The Fallidays are apple time. This Brown Sugar Apple Crisp & Miso Caramel Sauce pairs fresh local apples with lots of coconut brown sugar, spices and a drizzle of sweet & salty Miso Caramel Sauce, a simple little jewel from the Bijouxs Kitchen.
Apple Crisp is my default holiday dessert. Easy to prepare and is a make-ahead recipe. The classic crisp was one of the first little jewels on my website, now an updated version to share.
BROWN SUGAR APPLE CRISP
Brown Sugar Apple Crisp & Miso Caramel Sauce uses both dark coconut sugar and regular brown sugar to achieve the deep, dark brown sweet apple filling. The classic apple crisp is then lavished with a drizzle of homemade Miso Caramel Sauce, a lovley classic holiday dessert.
ORGANIC LOCAL APPLES
The small organic apples came from a neighbors tree, they are crisp and slightly tart. The prepped apples are tossed with the dark coconut sugar and spices and left to sit for a few minutes while the topping is made.The topping is classic crisp topping with flour, brown sugar and butter are quickly mixed in the food processor, or can be mixed by hand using a fork to create a crumbly mixture, being careful not to over work the topping. The apples and all the accumulated juices are placed in the baking dish, sprinkled with the topping and off into the oven for about 45 minutes, or until the apples are tender and the crust is nicely browned.
MISO CARAMEL SAUCE
I served the Brown Sugar Apple Crisp with a simple to make Miso Caramel Sauce. Dates, sugar free maple syrup, coconut cream and blended with white miso paste, the result is a sweet and salty caramel sauce, pairs nicely with the Brown Sugar Apple Crisp.
Happy Fallidays from Bijouxs Little Jewels from the Kitchen.
As always, enjoy. B