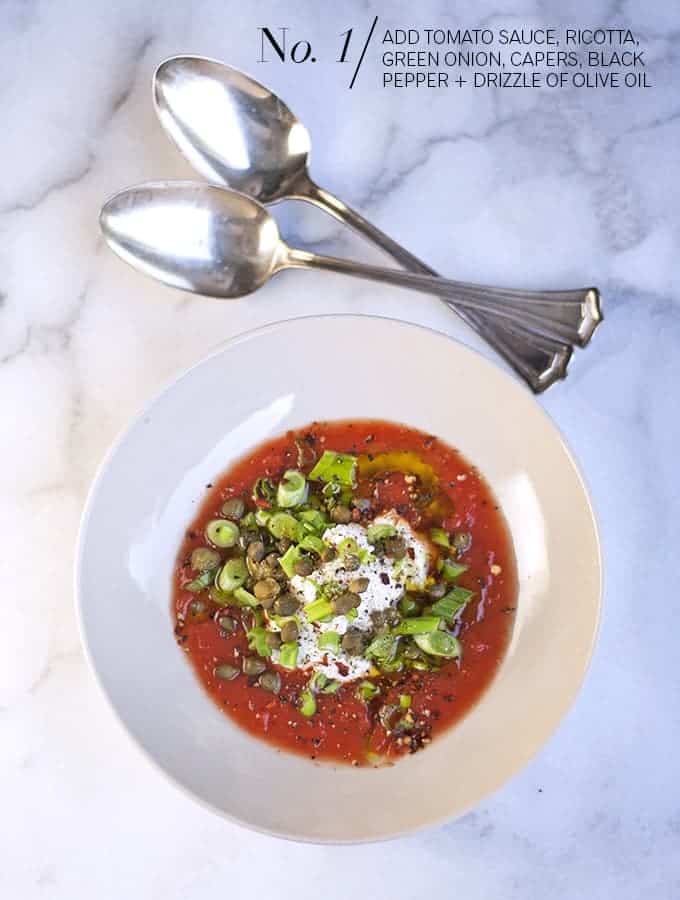 Sometimes it's too hot to cook, so here's a simple 15-Minute Fraîche from Bijouxs. Penne with Tomato, Ricotta & Capers – just boil water for pasta and toss with a no-cook sauce – a little gem for summer.
This is turning out to be one hot summer here in Los Angeles, cooking in the Bijouxs Kitchen has been dialed down to 'minimal', so here's a peek at how I stay cool in the kitchen. Summer also changes eating patterns, many times eating late (as pictured here) after the heat has subsided, so lighter, simpler fare is in order.
The Bijouxs recipe collection contains a gathering of recipes I call '15-Minute Fraîche – fresh dishes that are treated in a light, modern manner where the true flavors of the food can be appreciated. Penne with Tomato, Ricotta & Capers is less of a recipe and more of a cooking tip on how to keep cool in the kitchen during summer. Pasta is an easy fix, boil a pot of water and in ten minutes you are at dinner.
While the water comes to a boil, there is time to bring together ingredients for an easy no-cook sauce. Most of the ingredients are on-hand pantry items, because many times it's also too hot to shop for dinner. I serve this pasta in individual bowls, which allows for customization. Begin with a light, uncooked tomato sauce made from a puree of San Marzano canned tomatoes (or your own garden tomatoes if you are lucky) season to taste with a little salt and pepper and perhaps a pinch of sugar, next a spoonful of room temperature fresh ricotta cheese, add capers, a sprinkle (for me a big sprinkle) of green onion or a touch of garlic, a drizzle of olive oil and freshly ground salt and black pepper – add the hot drained penne and toss, voilà- 15-Minute Fraîche.
Begin with the basic recipe and adapt away! Other 15-Minute Fraîche pasta combinations I have enjoyed: tomato sauce, black olive, caper, anchovy, and red pepper; tomato sauce, crumbled blue cheese and black pepper; tomato sauce, mozzarella and fresh basil; and tomato sauce simply lavished with a collection of fresh herbs. If you have a little time in the morning, try Bijouxs No. 1 Summer Tomato Sauce, which "cooks" on the kitchen counter while you are away.
Wishing everyone a cool summer in the kitchen from Bijouxs.
As always, enjoy. B