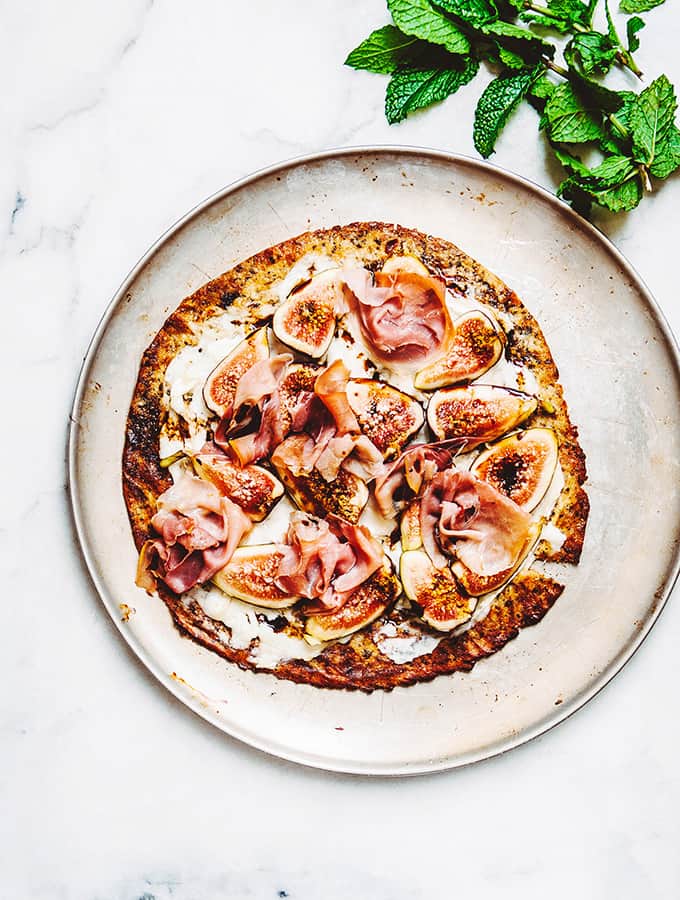 Beautiful fig season is still here. This is an easy pizza adorned with fresh ripe figs. If you love fresh figs, Fig, Brie & Prosciutto Pizza is a simple jewel of the season.
FIG SEASON
Like so many of you, I can't resist lush ripe figs in the markets, in all their glory. I have posted many recipes on my blog over the years that utilize figs. Some of my favorites are Honey Glazed Figs with Yogurt & Lavender Essence, Big Fig Crumble Bars, and the luscious Date, Fig & Balsamic Conserve.
FIG, BRIE & PROSCIUTTO PIZZA
Fig, Brie & Prosciutto Pizza is quite easy to pull together. I am cheating a bit by starting with a ready made thin pizza crust, this one happens to be made from cauliflower, and is really quite tasty. After a quick melt of the brie cheese on top of the crust, sliced figs and thin Prosciutto are lightly placed on top and a quick trip into the oven, then it's pizza time.
PIZZA AND WINE
This pizza delivers flavors that are creamy+salty+sweet all on a thin crispy crust. Little adornment is required, I use a thin chiffonade of sweet mint from the garden, another sweet counterpoint in the pizza. Basil would also be nice. The pizza pairs well with 2016 Grenache Ventura County from Clos des Amis. Yes, Ventura is under the radar, with great wines right in our own backyard.
Savor Fig, Brie & Prosciutto Pizza with a glass of wine. Bijouxs Little Jewels from the Kitchen, simply beautiful food for the home cook.
As always, enjoy. B