Does the world really need another green bean holiday side dish? Did we really need to deep fry, brine, bake in a bag or smoke a turkey, create stuffing muffins or explore every dessert that utilizes pumpkin? Considering the holiday food fascination, the answer to the first question is yes, we do need another green bean holiday side dish – here's a little jewel from the Bijouxs archives and no, it does not involve canned soup. 
Green Beans Caesar is the Bijouxs take on the 1958 Del Monte classic recipe that was a favorite at our holiday gatherings and many years later was carefully updated to ensure the original character of the dish.
This tattered, torn and stained page is from my Mother's recipe file, where she also finally typed the recipe onto an index card to ensure the recipe could live on, along with the inscription "excellent." The premise of this dish is simple, green beans tossed in a tart, onion infused vinaigrette with Parmesan cheese and scattered with homemade croutons, so delicious – I make it year round whenever I get the craving.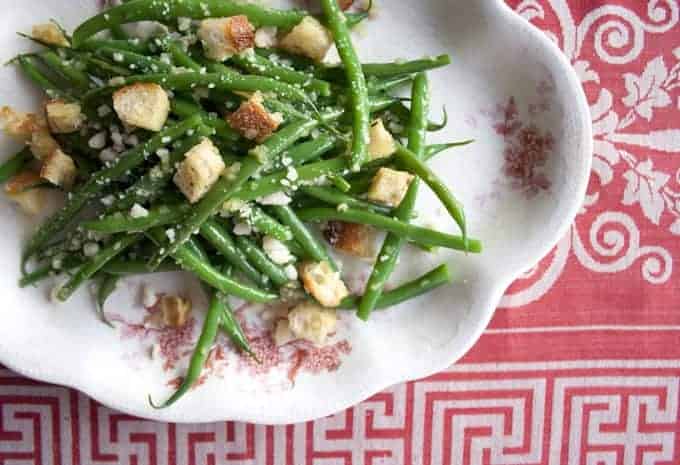 Bijouxs updates to the recipe include fresh green beans (preferably thin haricots verts) olive oil, champagne vinegar and seasoned croutons but maintains the one important swap my Mother made and the key to the slightly tart taste – minced dehydrated onion instead of fresh onion that the original recipe included. Adjust the vinaigrette to suit your taste, adding as much onion as you like, but keep the balance on the vinegar side to provide a bright spark of flavor.
The mise en place for the dish may be made ahead – a holiday blessing – blanch the green beans, bake the croutons, grate the Parmesan cheese, then the brief cooking assemblage takes place right before serving.
Green Beans Caesar, a side of Bijouxs holiday past, another a little jewel from my kitchen to yours.
As always, enjoy. B