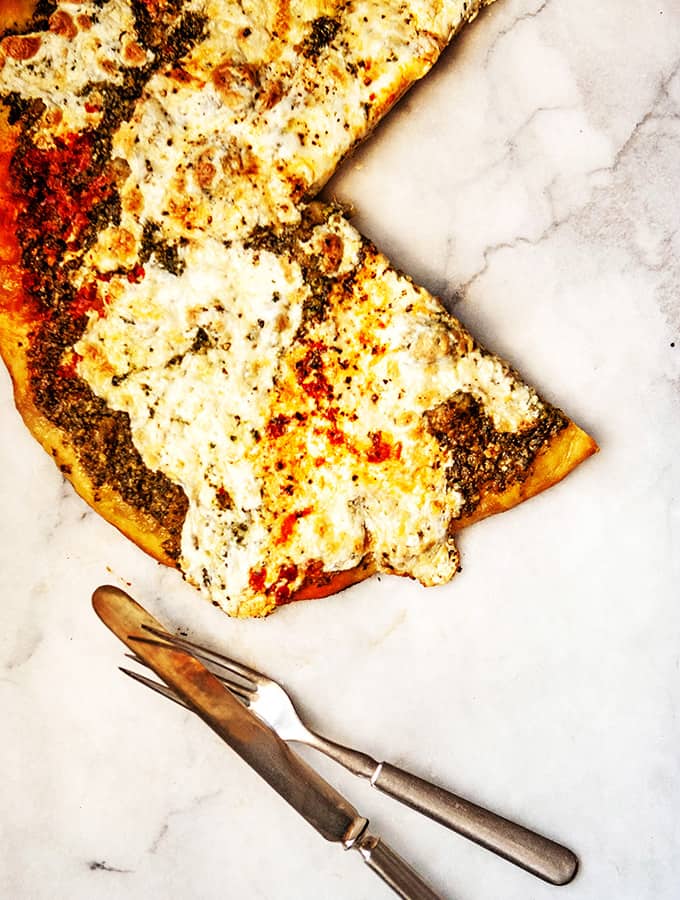 Pizza is in the house! Post holiday delights created this creamy flavor-packed Pizza with Truffle Burrata & Pesto, another little jewel from the kitchen.
PIZZA AT HOME
Once you start creating your own pizzas at home you never look back. One of my first pizza recipes I shared was my 15-Minute Pizza dough that I have been making for years. It has served as the base of many a pizza, there are many on the website just Search "pizza" to see them all. By quickly making your own dough the sky's the limit for your pizza creations.
HOLIDAY LEFT-OVERS
Although Truffle Burrata and Pesto do not make a meal, they were used to create other holidays recipes. The expiration dates were looming-a pizza was a good idea. Just start with Bijouxs 15-Minute Pizza Dough, top with The Best Basil Pesto and embellish with a creamy burrata cheese, this one happened to include truffles.
TRUFFLE BURRATA & PESTO
Up close, you can almost taste the melty cheesy goodness dripping from the pizza. Look for burrata cheese in most markets, Trader Joe's is currently stocking one with truffles. You could also mix some Truffle paste into the plain burrata. Blending up a batch of fresh pesto is easy and you can use it to spice up many dishes. I love pesto mixed with fresh peas and some mint, or just spread on a toasted baguette with a touch of parmesan cheese.
Pizza made at home is a little jewel from the kitchen.
As always, enjoy. B