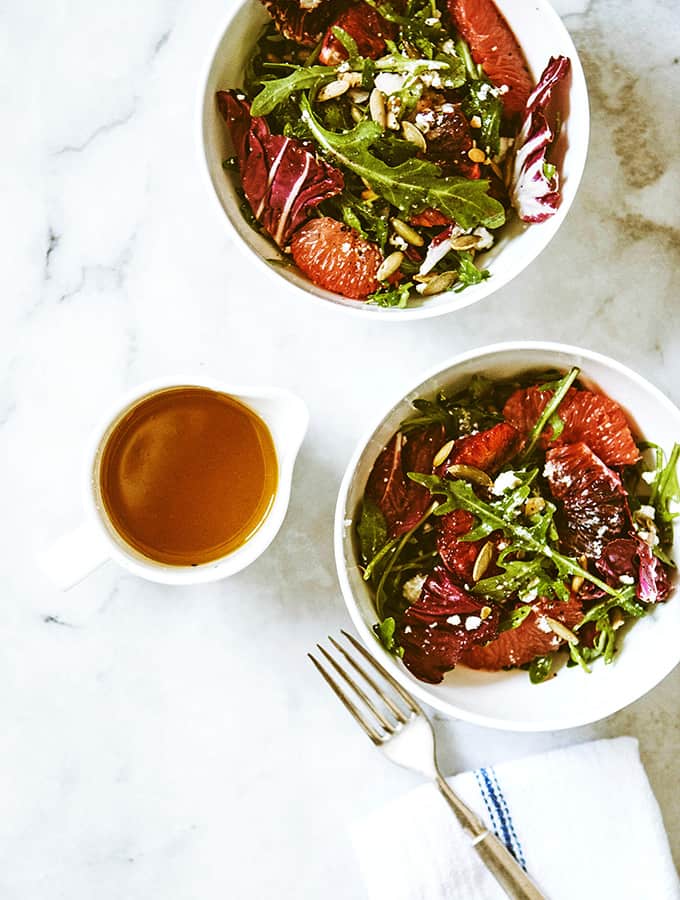 Salads, can we ever have enough recipes? This lovely little jewel originates from Charcoal in Venice Beach. Citrus season makes this a perfect time for this salad with blood oranges and grapefruit, tossed with arugula, radicchio and French feta, a healthy and delicious little jewel.
L.A. RESTAURANTS
I am a L.A. born and bred girl now living along the beautiful central coast. I have tried to utilize our extended down time by cruising through all of my cookbooks, hundreds in fact. Eat. Cook. L.A. brings recipes from many of my favorite haunts in L.A. like this salad. Sadly, with the downturn, many of my favorite restaurants have closed. I am happy though to cook recipes from L.A.'s  great restaurants in-between cooking and creating my new No. 4 Beautiful Food By Design Cookbook.
CITRUS SEASON
This is a favorite time of year. The winter citrus crops bring that bright spot to winter, vibrant color while we wait for Spring. There are so many choices, oranges, tangerines, grapefruit and blood oranges just to name a few. California citrus are exported for enjoyment all over the world.
SEASONAL ARUGULA CITRUS SALAD
I have lightly adapted the original recipe, substituting a few of my favorite ingredients such as Sherry vinegar & olive oil. French feta is my favorite but a Greek Goat milk feta will work just as well. Use baby arugula, or better yet grow your own. My garden is just beginning to produce lettuce. It is wonderful to go out and collect lettuce for your evening salad. I have other citrus salads on the website, such as Beet, Citrus and Olive Salad, Blood Orange and Fennel Salad, and a classic Orange & Olive Salad. All deliver the fresh California forward flavors.
Wishing you a happy and safe new Spring.