A winter's take on a summer dish – panzanella, Italian bread salad, heats up with roasted winter vegetables, as a traditional dressing stand-in or as part of relaxed post-holiday lunch – a recipe for now and later from Bijouxs.
We know and love panzanella as a summer beauty, bursting with ripe fresh tomatoes, but versatile panzanella can change with the seasons. Roasted holiday vegetables meet with buttery soft croutons, infused in a Sherry vinaigrette and garnished with curls of soft fontina cheese.
Traditional holiday season vegetables include butternut squash, roasted with fresh sage, Brussels sprouts, for that savory bite and sweet creamy chestnuts. These roasted gems are tossed with buttery soft croutons and a Sherry-infused vinaigrette, making a traditional side dressing alternative for roasted poultry or as part of my favorite, the post holiday lunch.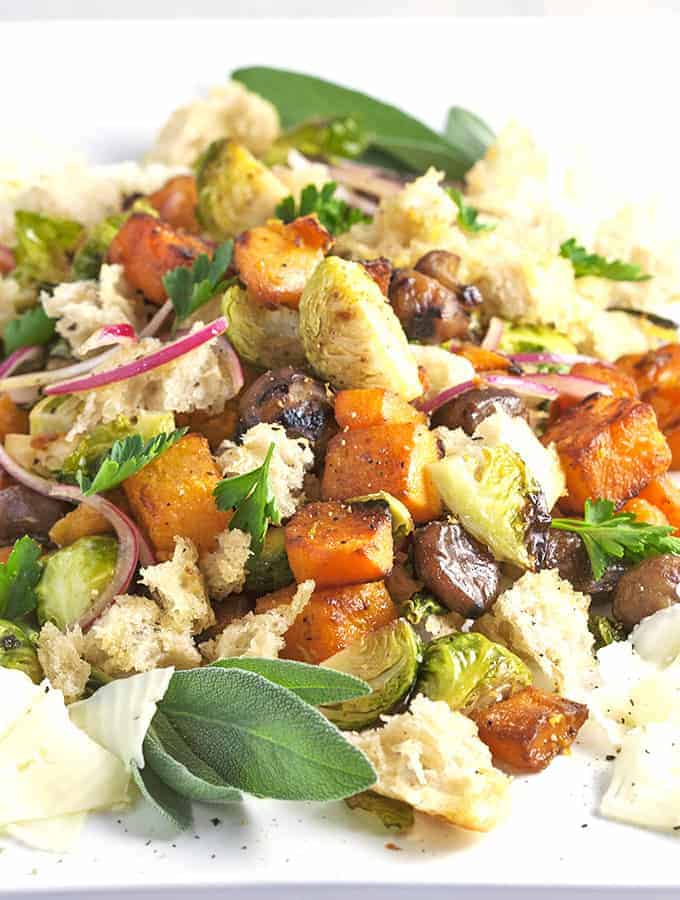 My favorite time is the week between Christmas and New Year's. A time to reflect and enjoy a late afternoon lunch with friends. Simple platters of salads served cold and warm cucina fresca style, including Roasted Winter Panzanella, are laid for guests to sample, along with antipasti, fruits, cheeses, and desserts, most procured from the local Italian deli. Simple dining together on a late winter day, sharing the joy of the season.
Thank you to my readers as we celebrate Bijouxs Little Jewels from the Kitchen third holiday season together, sharing the little jewel recipes from my kitchen.
Wishing you all a bright and merry holiday and a lustrous New Year!
As always, enjoy. B